Requtech Electronically Scanned Antenna
fully integrated satellite terminal
Requtech Electronically Scanned Antenna – fully integrated satellite terminal.
RESA M is a fully integrated phased array flat panel antenna terminal suitable for Satcom-On- The-Move over LEO/MEO/GEO constellations. Designed with an increased transmit capability over RESA S, this member of the RESA family of flat panel satellite terminals, can be used as a stand- alone product or used in a mesh configuration with several RESA terminals. This configuration is suitable for ManPack or Vehicle Mount applications.
Other members of the RESA family include fully integrated terminals for Land-based, Marine and Airborne communications solutions with radomes tailored to each application.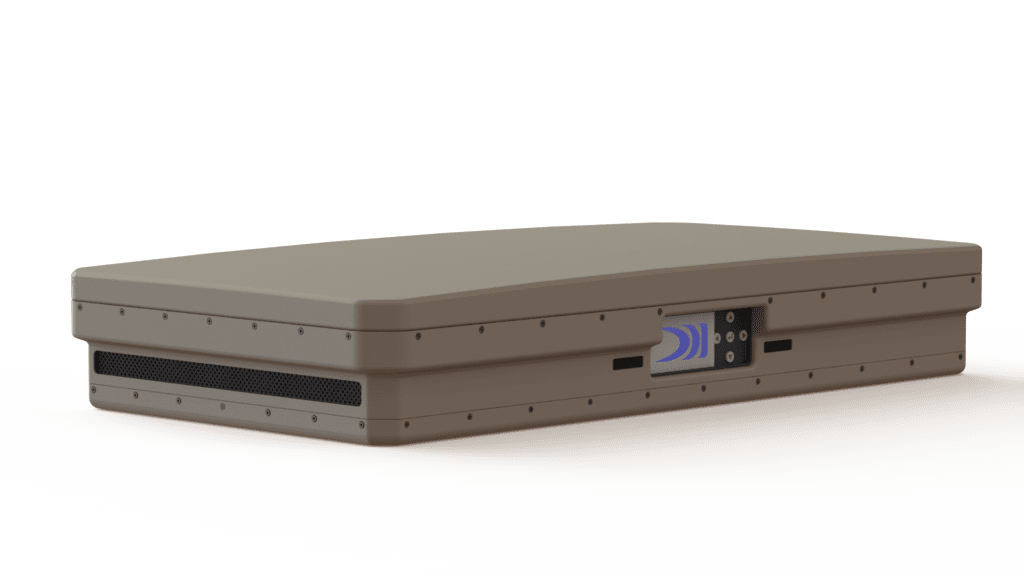 Requtech Electronically Scanned Antenna with Ku frequency band
•
Fully integrated satellite terminal.
• Electronically scanned pointing and tracking.
• Mesh networking of several devices supported.
• Ku frequency band.
• Modem integrated for internal or external installation.
• Ruggedized design for maritime operation.
• ITU-R S.465 compliant patterns.
• Integrated antenna control unit with full sensor kit including beacon receiver, GPS, IMU.
• Operational temperature range -20 to +55  C / -58 to +130  F.
 
RF PERFORMANCE
TX Frequency
13.75 – 14.5 GHz
RX Frequency
10.7- 12.7 GHz
G/T
9-11 dB/K over frequency and operating temperature

Max EIRP
Linear, low-sidelobe

46 dBW
EIRP 37 dBW

Polarity
Linear or Circular electronically switched
Side-lobe PDR Tx
PSD Tx FCC 25.218
Tx XPD
25 dB
Rx XPD
25 dB
 
 
 
ELECTRONIC SCANNING SPECIFICATIONS
Tracking error
< 0.05 dB
Beam update rate
100 Hz
Azimuth adjustment
360° with pointing step size of 0.1°
Elevation adjustment
0-60° from zenith with pointing step size of 0.1°
 
 
 
ELECTRICAL SPECIFICATIONS
Power Supply
24V 15A (365W)
 
INTERFACES
DC Power
MIL-DTL-5015 (2-pin)
Ethernet
RJ45
 
ENVIROMENTAL SPECIFICATIONS
Operating Temperature
-20° to +55°C / -5° to +130°F
Storage Temperature
-40° to +70°C / -40° to +160°F
Protection
IP67
Wind
250 km/h / 155 mph
 
WEIGHT AND DIMENSIONS
Dimensions (COTM terminal)
836x442x136 mm
Terminal Weight

approximately 20 kg/44 lbs depending on configuration
How can we help you? Contact us to find out more!
Please fill out the contact form and we will get in touch with you as soon as possible.